POOLSIDER rubberized bikini |BK-001|
Bikini | twopiece; in a sexy rubberized "Shiny Rubber" finish. Realise N-cut briefs with covered buttocks, low-cut legs (low waist). Top with lacing in the neck, adjustable at the back.
Main material (surface): Japan ENAMEL (Shiny Rubber) in 5 colors.
Top´s ribbons made of SSW.
Please note that bikinis have their own size chart. You can find these below.
This bikini has inner linings. Rubberized suits and bikinis have a textile lining on the inside.
Design and manufacture : made in JAPAN.
Available in following high gloss colors : pink, blue, greyand navy.
Available in following (silk-)mat colors : black
Available in following sizes : M and L
HIGH GLOSS rubberized Japan ENAMEL
The surface has a great shine, but the material is soft and comfortable to wear.
In contrast to the rest of the colors, the black color has a mat finish.
Material composition :
Surface : 100% polyurethane
Inner linings : 85% polyester, 15% polyurethane

Stretch-Level : 2, less stretchy

The manufacturer recommends : Handwash only (turn left), do not tumble dry and do not iron.
New items should be handwashed separately to prevent color bleaching.
Please note that this bikini´s sizes are a little different compared to REALISE suits.
This bikini is only available in Japanese sizes. We have translated this sizes to European sizes and created an detailed size chart. Please notice that our garment sizes are just meant for an approximately information. Please take your exact measurements before you order and compare with this size chart.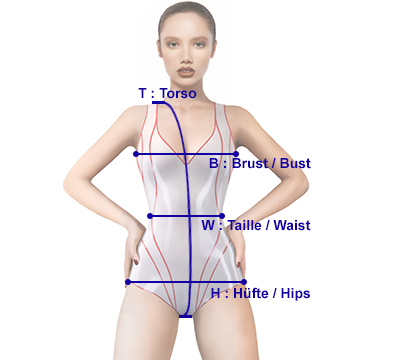 Accessoires like stockings, socks or shoes that might be shown on product photos are not part of the ordered item.