POOLSIDER rubberized suspender swimsuit with sports-bra |PS-01HL|
Rubberized suspender swimsuit two-piece with sports-bra;
Suspender high-waist briefs in "Hairline Metallic" Shiny Rubber finish. Realise N-Cut with covered buttocks and slightly higher leg cut. The leg cut can be slightly raised on the side with ribbons in both sides.
Sports-bra in contrasting color and made of swimwear-textile. The top has inner linings.
Available in 3 color options.
Please take into account that bikinis and two pieces have their own size chart. You will find more details below.
---
That´s what REALISE and POOLSIDER say about this new rubberized series :
"This bikini is based on Realise´s new METALLIC hairline series (N-99X-HL) and is a fusion of the flair of the 80s with the absolute new developed and stunning materials.
About the fabric: This material was designed and produced to become as thin as possible, but still with very durable characteristics.
We are proud that we have developed a material that you can not find within any other products.
We focused our attention to balance the color, gloss and metallic glitter – which you can see when you have a close look at the metallic surface.
About the design: The effects of this material is such present and energetic that we just kept the product design a bit more simple.
For example the sports-bra discreetly complements the suit without stealing the show.
Please use this extraordinary swimsuit not only as costume, but also where it feels at home: in the pool and at the beach! "
This two-piece is lined and opaque in all colors (also with wet). So exceptionally the metallic surface of the carrier bodies is also, even its lamination impresses with magnificent neon colors.
– Gold metallic: inside pink
– black metallic: inside green
– Silver metallic: inside orange
Design and manufactory: Made in Japan.
Available in the following color options
– Gold metallic | White; Carrier body in gold, sports top in white
– Black metallic | Lime; Carrier body in black, sports top in Lime (neon-green)
– Silver metallic | black; Carrier body in silver, sports top in black
Available in the following sizes: S, M and L
– Suspender-highwaist-briefs : rubberized "hairline metallic" Japan ENAMEL
That´s what REALISE and POOLSIDER say about this fabric :
"It is a completely newly developed, lavished (coated) fabric that is so new and unique that it had to be invented by a long process of Try & Error. This was necessary in order to achieve the elasticity, texture, color and finish required for this swimsuits.
Our commitment was not limited to the unusual, metallic surface, because in contrast to comparable materials, we have achieved considerable elasticity for an awesome look.
Experience the sexyness and coolness of wearing metal. Seems like it has been made of solid metal in the shape of a swimsuit, which combines the look of a machine with the natural curves of the female body."
Composition :
surface : 100% polyurethane
inner linings : 85% polyester, 15% polyurethane
---
– Sports-top : swimwear textile with inner linings
Surface: 88% polyester, 12% polyurethane
Linings : 100% polyamid (nylon)

The manufacturer recommends : Handwash only (turn left), do not tumble dry and do not iron.
New items should be handwashed separately to prevent color bleaching.

Please take into account that the sizes of this two-piece are slightly different compared to Realise suits.
This swimwear is offered exclusively in Japanese sizes. However, we have converted them into European sizes and created a detailed table. Consider that our specified garment sizes are only guidelines. Please take measure before buying and compare your dimensions with those of our size chart.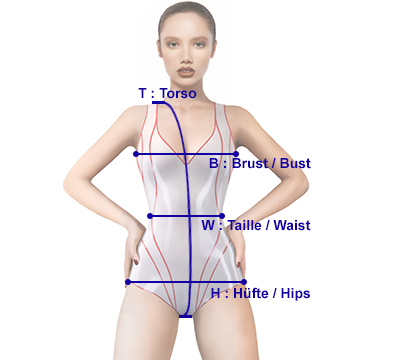 Accessoires like stockings, socks or shoes that might be shown on product photos are not part of the ordered item.