POOLSIDER "Jet Bath" fine rib leotard |PS-JBOP-001|
Fine rib leotard | onepiece | bodysuit ; in unicolor design, with low raise neckline front and back, closed back without zipper, normal leg und coverd cheeks (Realise N-cut). These bodies have the Poolsider logo stitched in the middle of the bust.
Please note that this bodysuit is roughly one size larger (compared to the Realise sizes).
These bodysuit is lined. This suit is lined with a light swimsuit material on the inside for optimal wearing comfort.
Design and manufacture : made in JAPAN.
Available in following colors : black, rose (light pink) and sax (light blue grey)
Available in following sizes : 1L, 2L, 3L (the suit is roughly one size larger)
The Poolsider FINE RIB is a material mix made of a fine rib surface and a lamination of swimsuit material on the inside. The lining makes the suit very comfortable to wear.
As you can see on the detailed photos below, waterdrops do not enter immediately and run off in smaller quantities. If the suit gets wet, the material dries very quickly.

Stretch-Level : 2, less stretchy
Material composition : surface : 100% polyester, lining : 88% polyester, 12% polyurethane.

The manufacturer recommends : Handwash only (turn left), do not tumble dry and do not iron.
New items should be handwashed separately to prevent color bleaching.
Please note that this bodysuit is about one size larger than REALISE suits.
This swimsuit is produced in Japanese sizes only. We have translated this sizes to European sizes and created an detailed size chart. Please notice that our garment sizes are just meant for an approximately information. Please take your exact measurements before you order and compare with this size chart.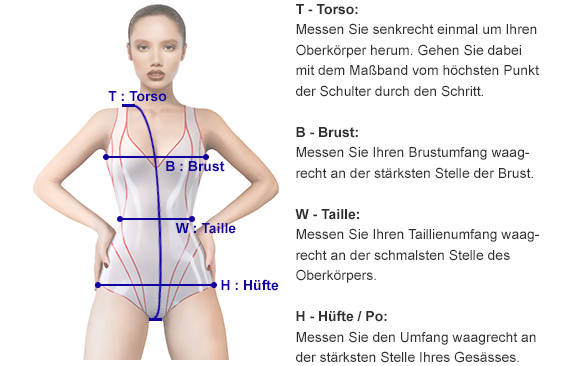 Accessoires like stockings, socks or shoes that might be shown on product photos are not part of the ordered item.