POOLSIDER Reflector Retro Surf-Bikini |PS-02-1SH|
RETRO surf bikini | two-piece; in a stunning "REFLECTOR" Finish. Realise N-cut briefs with covered buttocks, low-cut legs (low waist). High-necked top with front zipper and slim cut back in ringer style.
Main material: reflective coating on textile lamination.
---
Das sagen Realise & Poolsider zu Ihrer neuen Badeanzug-Serie:
"Dieser Bikini basiert auf dem Schnitt des neuen Retro-Surf-Bikinis von Poolsider (PS-02HL), und ist eine Verschmelzung des Flairs der 80er mit der absoluten Neuentwicklung : das reflektierende rubberized Material von Poolsider.
Zum Stoff: Wir sind stolz darauf, dass wir ein Material entwickelt haben, das man bei keinen anderen Produkten finden kann.
Wir widmeten unsere besondere Aufmerksamkeit der Balance von Elastizität, dem Reflektor-Effekt und der Optik.
Zum Design: Der Look des Bikinis ist derart präsent und energiegeladen, dass wir das Design einfach gehalten haben.

Bitte nutzen Sie diesen aussergewöhnlichen Badeanzug nicht nur als Kostüm, sondern auch dort, wo er sich zu Hause fühlt : nämlich im Pool und am Strand!"
This two-piece suit has a inner lining and is opaque (even when wet). Available in following colors :
– silver grey
Poolsider logo inside, behind zipper
Design and manufacture : made in JAPAN.
Available in following sizes : S, M and L
"Reflector" Material
This´s what REALISE and Poolsider say about this new and unique material:
"Reflector material was first and foremost used in clothing for one, well-known reason: that pedestrians can be seen better by cars at night. This material is also used for uniforms and shoes of the fire brigade and rescue service personnel. In recent years, however, the fashion world has increasingly adopted these reflective panels as fashionable applications in their collections.
The reflective effect results from fine glass beads that are worked into the surface of the fabric. However, it is extremely rare that such a surface (like our product) is processed into elastic fabrics. A production of such a bikini, made entirely of reflective material, was unthinkable at the beginning of the concept phase. In the end, it took about 5 years until this reflective bikini could become reality – and this only through the hard work of many capable engineers, specialists and visionaries. "
Material composition :
Surface : 100% polyurethane
Inner linings : 85% polyester, 15% polyurethane

The manufacturer recommends:
hand wash only, inside out
do not tumble dry
do not iron
let it dry in the shadow
New items should be handwashed separately to prevent color bleaching.
Please note that this two-piece suit has a little smaller fit due to the somewhat lower elasticity of the reflector material. The sizes are similar to the general REALISE sizes.
This bikini is only available in Japanese sizes. We have translated this sizes to European sizes and created an detailed size chart. Please notice that our garment sizes are just meant for an approximately information. Please take your exact measurements before you order and compare with this size chart.

Impressions from Realise model (Biru Otsaka) :
I always wear a size L within Realise suits, also when shooting this two-piece by Poolsider. I found the size L to be more suitable and comfortable, as the material is not very elastic. If you wear a Realise size L, you can also wear this suit in L.
Biru Otsakas measurements
Body height: 167cm, Bust: 86cm, Waist: 60cm, Hips: 89cm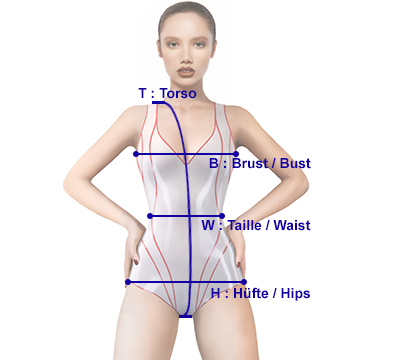 Accessoires like stockings, socks or shoes that might be shown on product photos are not part of the ordered item.