POOLSIDER metallic "SEA ANGEL" bikini |PS-03HL|
Rubberized Bikini with "Hairline metallic" SHINY RUBBER finish. Slip with ruffle applications on the sides, in the Realise N-cut with covered cheeks and slightly higher leg cut. Bikini top in sports bra cut with logo on the back left.
Please notice that bikinis and two pieces have their own size chart. You can find these below.
---
Das sagen Realise & Poolsider zu Ihrer neuen Badeanzug-Serie:
"Dieser Bikini basiert auf der neuen METALLIC Hairline Serie von Realise (N-99X-HL), und ist eine Verschmelzung des Flairs der 80er mit den brandaktuellen und stylischen Materialien.
Zum Stoff: Dieses Material wurde von uns so konzipiert und hergestellt, dass es so dünn wie möglich, aber dennoch sehr strapazierfähig ist.
Wir sind stolz darauf, dass wir ein Material entwickelt haben, das man bei keinen anderen Produkten finden kann.
Wir widmeten unsere besondere Aufmerksamkeit auf die Balance von Farbe, Glanz und metallischem Glitter – was Sie bei genauerer Betrachtung im Detail auch feststelllen können.
Zum Design: Der Look des Bikinis ist derart präsent und energiegeladen, dass wir das Design einfach gehalten haben.

Bitte nutzen Sie diesen aussergewöhnlichen Badeanzug nicht nur als Kostüm, sondern auch dort, wo er sich zu Hause fühlt : nämlich im Pool und am Strand!"
For a deeper décolleté our photo model Patty wears the bikini-top the other way around, with the slightly narrow cut back front.
Patty wears size L; her measurements: bust 82cm, waist 65cm, hip (hip bone) 80cm, cheeks 98cm
This two-piece is lined and opaque in all colors (also when wet). As exceptional the metallic surface is also its lamination impresses with magnificent neon colors. The lining could be seen at the side ruffles.
– champagner gold metallic : linings pink
– blackmetallic : linings green
– brushed silber metallic : linings orange
Design and manufacture : made in JAPAN.
Available in following sizes : S, M and L
rubberized "Hairline Metallic" Japan ENAMEL
That´s what REALISE says about this new creation :
"It is a completely newly developed, lavished (coated) fabric that is so new and unique that it had to be invented by a long process of Try & Error. This was necessary in order to achieve the elasticity, texture, color and finish required for this swimsuits.
Our commitment was not limited to the unusual, metallic surface, because in contrast to comparable materials, we have achieved considerable elasticity for an awesome look.
Experience the sexyness and coolness of wearing metal. Seems like it has been made of solid metal in the shape of a swimsuit, which combines the look of a machine with the natural curves of the female body.
Material composition :
Surface : 100% polyurethane
Inner linings : 85% polyester, 15% polyurethane

The manufacturer recommends : Handwash only (turn left), do not tumble dry and do not iron.
New items should be handwashed separately to prevent color bleaching.
Please note that this two-piece has slightly different sizes compared to Realise suits – please only compare your measurements with the size table below.
This swimwear is only available in Japanese sizes. We have translated this sizes to European sizes and created an detailed size chart. Please notice that our garment sizes are just meant for an approximately information. Please take your exact measurements before you order and compare with this size chart.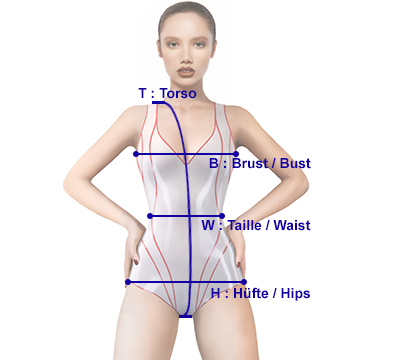 Accessoires like stockings, socks or shoes that might be shown on product photos are not part of the ordered item.