REALISE rubberized reflector swimsuit |N-999-2021| "HIGH GLOSS Shiny Rubber"
2021s "shiny rubber" series. Now finally back : SUPER-HIGH-GLOSS rubberized swimwear from Realise!
HIGH GLOSS rubberized swimsuit | onepiece | leotard | hydrasuit with reflector pipes; classic athletic low-rise waterpolo-cut(Realise´s reflector pipes cut), round neck, closed back with zipper, normal leg and covered cheeks (Realise N-cut).
The reflector pipes reflect light in the dark.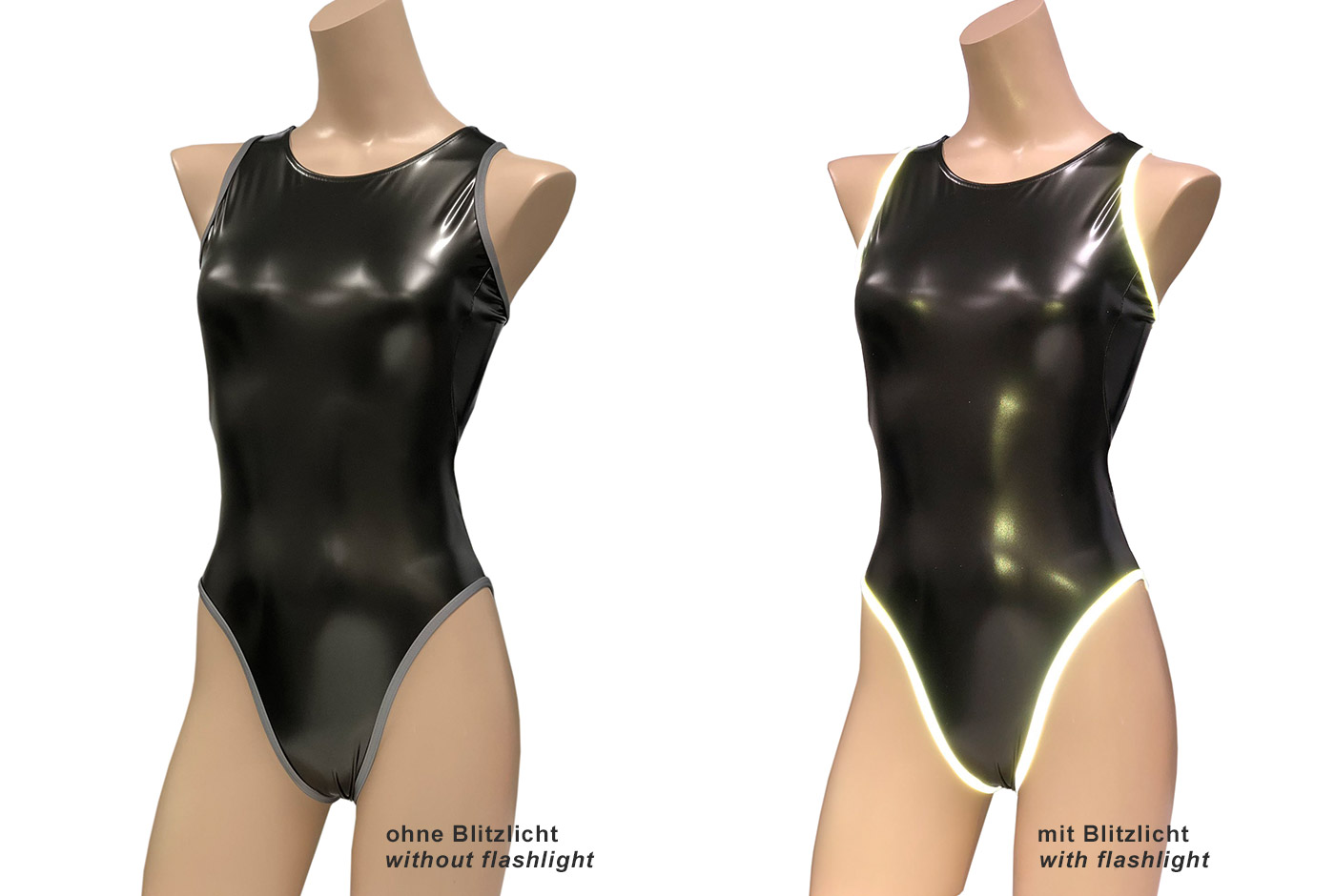 REALISE N999 Reflector Pipes effect : The pipes reflect light in the dark
This swimsuit is completely lined with textile inside and is opaque in all colors (even when wet). Navy and Gunmetal have black colored inner linings, Pink has really light rose (almost white) colored inner linings.
Logo printed, middle of bust (overbust)
Designed and manufactured in JAPAN
Available in following colors :
– dolly pink : light pink
– glossy navy: navy, darkblue
– gunmetal : darkgrey-black, anthracite, metallic

Available in following sizes : 1L, 2L, 3L, 4L, 5L
HIGH GLOSS rubberized Japan ENAMEL
The high-gloss colors are finally coming back to Realise´s product range within the 2021 series: Gunmetal, Glossy Navy and Dolly Pink.
The surface has a great shine as well as a mirror effect, yet the material is soft and comfortable to wear.
Material composition :
Surface : 100% polyurethane
Inner linings : 82% polyester, 18% polyurethane

Der Stretch-Level liegt bei 3 von 5 Sternen : gut elastisch
Die Anzüge fallen klein aus. In der Regel raten wir zu einer Größe kleiner als bei den gewohnten Größen wie evtl den EASY STRETCH Anzügen, vor allem bei etwas mehr Hüftumfang.
Impressionen vom Realise Model (Biru Otsuka):
Größe : 167cm
Brust : 86cm
Taille : 60cm
Hüfte : 89cm
"Ich trage immer eine Realise Größe L, so auch beim Shooting dieser Badeanzüge. Ich empfand die Elastizität der Farben leicht unterschiedlich:
Dolly Pink > Gunmetal > Glossy Navy (mehr Elastizität von links nach rechts)."
---
In der folgenden Gallerie sehen Sie Biru Otsaka :

Der Hersteller empfiehlt: Handwäsche auf Links, Kein Trockner, nicht bügeln und im Schatten trocknen lassen.
Neue Anzüge sollten separat gewaschen werden, um ein Abfärben auf andere Kleidungsstücke vorzubeugen.
This swimsuit is produced in Japanese sizes only. We have translated this sizes to European sizes and created an detailed size chart. Please notice that our garment sizes are just meant for an approximately information. Please take your exact measurements before you order and compare with this size chart.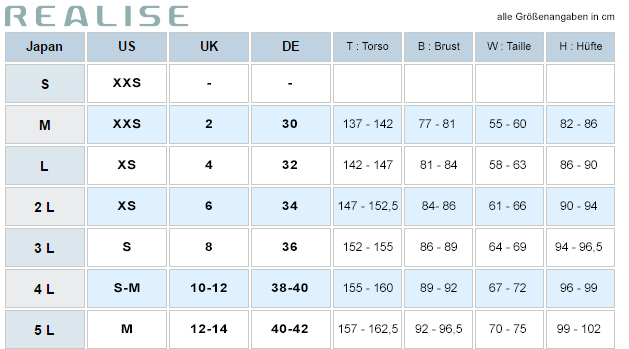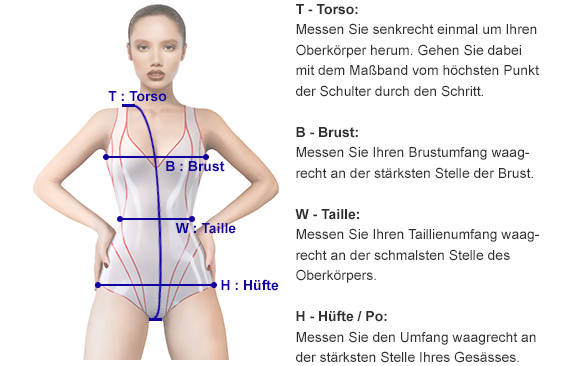 Accessoires like stockings, socks or shoes that might be shown on product photos are not part of the ordered item.