REALISE metallic waterpolo swimsuit |N-997-HL| "HAIRLINE rubberized"
2020s "Shiny Rubber" Realise series : extraordinary METALLIC finish with a fine hairline structured surface.
Rubberized waterpolo swimsuit | onepiece | leotard | hydrasuit ; in REALISE´s athletic WATERPOLO-cut, highneck with small collar, closed back with zipper, normal leg and covered cheeks (Realise N-cut).
This swimsuit is completely lined with textile inside and is opaque in all colors (even when wet). As unusual and extraordinary as the surface of these suits is, in this series even the lamination on the inside with gorgeous neon colors looks impressive.
Logo printed in middle of bust (overbust).
Designed and manufactured in JAPAN
Available in following color options :
– champagner gold : light gold, metallic / inner linings : pink
– brushed silver: light silver, metallic / inner linings : orange
– black : dark grey, anthrazite metallic / inner linings : green

Available in following sizes : 1L, 2L, 3L, 4L, 5L
rubberized "Hairline Metallic" Japan ENAMEL
That´s what REALISE says about this new creation :
It is a completely newly developed, lavalized (coated) fabric that is so new and unique that it had to be invented through a long process of try & error especially for this series. This was necessary in order to achieve the elasticity, texture, color and finish required for this swimsuits.
Our commitment was not limited to the unusual, metallic surface, because in contrast to comparable materials, we have achieved considerable elasticity for an awesome look.
Experience the sexyness and coolness of wearing metal. Seems like it is cast in the shape of a swimsuit, which combines the look of a machine with the natural curves of the female body.
Material composition :
Surface : 100% polyurethane
Inner linings : 85% polyester, 15% polyurethane

The stretch level is 2.5 out of 5 stars: medium elastic
However, the suits are quite small by Realise standards. Usually you should buy one size smaller.
Wearing example from Realise model Umi (UmiECup @ Twitter), she wears Realise size L
Height : 168cm
Bust : 86cm
Waist : 60cm
Hips : 88cm

The manufacturer recommends : Hand wash inside out (turn left), no dryer, do not iron and let it dry in the shade.
New suits should be washed separately to prevent staining (color bleeding) on other garments.
This swimsuit is produced in Japanese sizes only. We have translated this sizes to European sizes and created an detailed size chart. Please notice that our garment sizes are just meant for an approximately information. Please take your exact measurements before you order and compare with this size chart.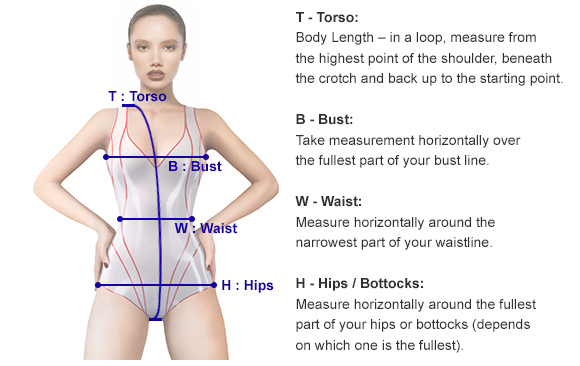 Accessoires like stockings, socks or shoes that might be shown on product photos are not part of the ordered item.