REALISE rubberized waterpolo swimsuit |N-997-2021| "HIGH GLOSS Shiny Rubber"
REALISE´s 2021s "Shiny Rubber" series. Now finally back : SUPER-HIGH-GLOSS rubberized swimwear from Realise!
High gloss rubberized waterpolo swimsuit | one piece | leotard | hydrasuit; In the sporty Realise WATERPOLO cut, high-neck with a small collar, normal legs and covered bottom (Realise N-cut).
This swimsuit is completely lined with textile inside and is opaque in all colors (even when wet). Navy and Gunmetal have black colored inner linings, Pink has really light rose (almost white) colored inner linings.
Logo print, chest (overbust, center)
Designed and manufactured in JAPAN
Available in following colors :
– dolly pink : light pink
– glossy navy: navy, darkblue
– gunmetal : darkgrey-black, anthrazite, metallic

Available in following sizes : 1L, 2L, 3L, 4L, 5L
HIGH GLOSS rubberized Japan ENAMEL
The high-gloss colors are finally coming back to Realise´s product range within the 2021 series: Gunmetal, Glossy Navy and Dolly Pink.
The surface has a great shine and nice mirror effect, but the material is soft and comfortable to wear.
Material composition :
Surface : 100% polyurethane
Inner linings : 82% polyester, 18% polyurethane

The stretch level is 3 out of 5 stars : good elasticity
The suits are small. As a rule, we recommend a size smaller than the usual sizes such as the EASY STRETCH suits, especially if you have a slightly larger hip circumference.
Impressions from the Realise Model (Biru Otsuka):
Height: 167cm
Chest: 86cm
Waist: 60cm
Hip: 89cm
"I always wear a Realise size L, also when shooting these swimsuits. I felt the elasticity of the colors slightly differently:
Dolly Pink> Gunmetal> Glossy Navy (more elastic left to right). "
---
In the following gallery you can see Biru Otsaka:

The manufacturer recommends : Hand wash inside out, no dryer, do not iron and let it dry in the shade.
New suits should be washed separately to prevent staining (color bleeding) on other garments.
This swimsuit is produced in Japanese sizes only. We have translated this sizes to European sizes and created an detailed size chart. Please notice that our garment sizes are just meant for an approximately information. Please take your exact measurements before you order and compare with this size chart.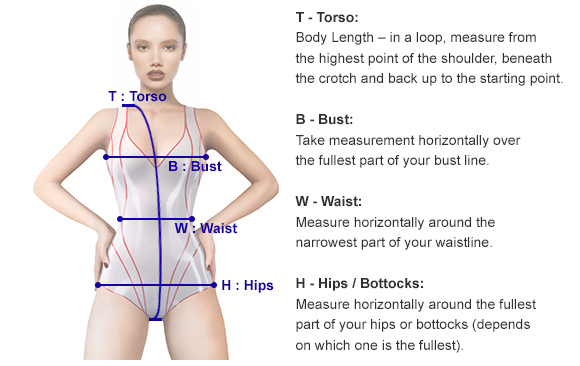 Accessoires like stockings, socks or shoes that might be shown on product photos are not part of the ordered item.