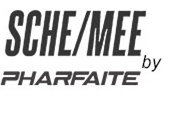 SCHE/MEE rubberized "BLACK MATERIAL" X-back swimsuit |SM108|
The Fetish SubBrand of SALON'D'ARTS (PHARFAITE) releases a new shiny swimsuit with colored contrast stitching for summer 2023.
From the current product range of SCHE/MEE. Estimated to be produced till end of 2024.

SCHE/MEE |SM108| - product informations
Im Folgenden sehen Sie die Materialien beider Varianten im Detail :
This swimsuit is an import from Japan and can therefore only be offered in Japanese sizes. Please note that Japanese sizes are much smaller than European or American sizes. Therefore, carefully take measure before buying and compare your data with those of the size chart.
SCHE/MEE & PHARFAITE use approximately the same size chart as Asics, Arena and Mizuno. The only striking difference: SCHE/MEE and Pharfaite use : XL and XXL instead of the size designation O and XO.
Bust :
Take measurement horizontally at the fullest part of your bust line.
Waist :
Measure horizontally around the narrowest part of your waistline.
Hips / cheeks
Measure horizontally around the fullest part of your cheeks / buttocks.
Accessoires like stockings, socks or shoes that might be shown on product photos are not part of the ordered item.
SCHE/MEE swimwear & intimates at Cultulu.com