PHARFAITE "Skinny Satin" wetlook thong swimming trunks |PF637|
in original "BINDER" design by Pharfaite with straps at the leg of the panty – made of shiny SKINNY SATIN.
From the current product range from PHARFAITE. Expected to be in product range till end of 2023.

two-tone design, with sporty contrasting stripes on the sides.
Skinny Satin wetlook finish.
Pharfaite's BINDER thong cut with straps on the sides of the leg cut. The straps are designed to hug the buttocks.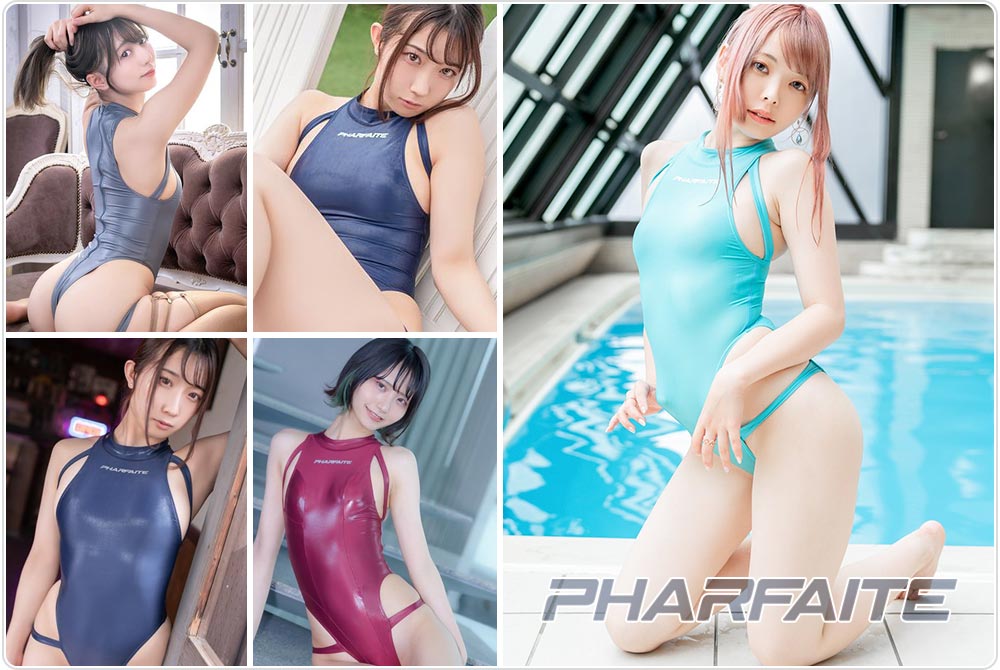 Pharfaite : "The popular Binder-Bloomers with T-Back (String) are now also available for purchase without top!  The String-Bloomers are again provided with the well-known straps (Binder Design), which slightly lift the buttocks from below, emphasize the hip line and thus provide a beautiful shape as well as an attractive back. (…)." 
This swimsuit is unlined in the crotch
Original import from JAPAN
Available in the following main colors : navy, pink, red (burgundy), sax (light blue), white
Available in following sizes : M, L, XXL
Size info according to the manufacturer:
M) hip: 82 – 93 cm
L) hip: 87 – 98 cm
XXL) hip: 97 – 110 cm
navy : main color : navy / contrast color : white
pink : main color : light pink / contrast color : white
red : main color : burgundy (dark red) / contrast color : white
sax : main color : sax (light blue) / contrast color : white
white : main color : white / contrast color : white / side stripes in navy
The "SKINNY SATIN" material is very thin, has a very nice sheen and visually resembles wet satin.
This is what Pharfaite itself says about it:
"With the Skinny Satin material, a unique sheen finish has been created that does not compromise the flexibility of the microfibers. Due to the thinness of the material, the swimsuit behaves like a second skin."

The lighter colors are slightly transparent, which intensifies when wet.

Composition : polyester 82%, elastane (polyurethane) 18%

The manufacturer recommends : Handwash only (turn left), do not tumble dry and do not iron.
New items should be handwashed separately to prevent color bleaching.
Accessoires like stockings, socks or shoes that might be shown on product photos are not part of the ordered item.