ARENA competition swimsuit |ARN7021| and |OAR7021WN| (custom)
with FINA mark – made of the popular X-Python 2 performance material
Dieser Artikel wird in Japan leider nicht mehr produziert und kann daher auch nicht mehr vorbestellt werden – es ist nur noch das verfügbar, was bei uns auf Lager ist.
two-tone design with seams in contrast color.
ARENA racer back cut (X-back, sports-back) with open back.
roundneck.
high leg cut and covered cheeks/buttom.
Manufacturer's specifications: Competition swimwear for women with a higher fit and improved athletic functionality through more freedom of movement.
This swimsuit is unlined in the chest area – but has a inner lining in the crotch. The suit is prepared for the attachment of swimsuit bras.
ARENA oogo (only typo), overbust middle.
Competition FINA approval mark on the left butt cheek. Mark by the International Swimming Federation (FINA): Competitive swimwear for swimming competitions and games.
Original import from Japan.
Available in following main colors : blue, navy, red, black, purple
Available sizes : S, M, L, O (XL), XO (XXL)
This swimsuit is available in standard colors and in an individual color configuration. The color configuration can be done from the available 5 main colors (blue, navy, red, black, purple), the 6 seam/stitching colors ( yellow, red, blue, white, light gray, light blue) and the 4 logo colors (yellow, red, blue, white).
Standard colors :
DRGD – main color: red | seams: yellow | logo: yellow
PLSV – main color: purple | seams: white | logo: white
DBSV – main color: blue | seams: white | logo: white
NVY – main color: navy | seams: light blue | logo: blau
BKRD – main color: black | seams: red | logo: red


dunkelrot, blau, navy, violett, schwarz


weiss, gelb, hellgrau, rot, hellblau, blau


weiss, gelb, rot, blau
Wenn Sie die Farboption "Custom" wählen, teilen Sie uns bitte Ihren Farbwunsch für P1, H1 und M1 auf der letzten Seite des Bestellvorgangs im Freitext-Feld mit (unter "Anmerkungen zur Bestellung (optional)"), oder schreiben Sie uns zeitnah eine Nachricht via Kontaktformular (evtl mit Ihrer Bestellnummer, falls bereits verfügbar).
X-PYTHON 2 is a slighty shiny and high quality competition material. Arenas X-PHYTHON 2 ensures an optimal fit. The fabric is very dense and smooth, which minimizes the friction.
Higher density than the previous X-Python (1), for a better fit.
The X-Python 2 is made of 33% polyurethane, which wraps around the body in a horizontal direction. Thus, the swimsuit fits securely and tight to the body and perfectly supports swimming movement.
The embossed surface is modeled after a tightly coiled python – giving the suit a unique design.
Composition: 67% polyester, 33% polyurethane


The manufacturer recommends : Handwash only (turn left), do not tumble dry and do not iron.
New items should be handwashed separately to prevent color bleaching.

This swimsuit is an import from Japan and can therefore only be offered in Japanese sizes. Please note that Japanese sizes are much smaller than European or American sizes. Therefore, carefully take measure before buying and compare your data with those of the size chart.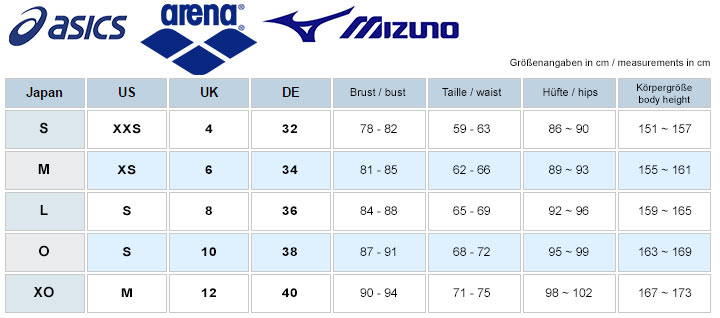 ASICS, Arena and Mizuno use approximately the same size charts, so we have led them together for simplicity.
Bust :
Take measurement horizontally at the fullest part of your bust line.
Waist :
Measure horizontally around the narrowest part of your waistline.
Hips / cheeks
Measure horizontally around the fullest part of your cheeks / buttocks.
Accessoires like stockings, socks or shoes that might be shown on product photos are not part of the ordered item.