From the current product range of SwimHXBY. This product is ready for shipping at the end of June 2022.
The shown size chart is a very first personal estimation – created by using the official manufacturer´s size details.
SWIMHXBY rubberized X-back swimsuit |280|
Sporty swimsuit with swimmer back – available in matte and shiny finish – also in PLUS Size up to size 10XL.

SwimHXBY Normal-Cut

X-Back with open backside without zipper.
deep roundneck.
normal (lower) leg-cut.
slightly wider front crotch part.
slightly wider panty part with covered cheeks/bottom.
This swimsuit has a inner lining in the crotch area.
SWIMHXBY logo, overbust left.
Original-Import from JAPAN.
Design and product end control: Japan, production: China
Available in 3 color options: PU black (matt), PU white (matt), NPU black (glossy)
Available in following sizes : M – 10XL (DE: 32-54, UK: 4-26, US: 2-24)
NPU (glossy) :
Composition surface: 100% polyurethane; composition lining: 80% polyamide (nylon), 20% elastane.
PU (matt) :
Composition surface: 100% polyurethane; composition lining: 80% polyamide (nylon), 20% elastane.
SwimHXBY PU and NPU materials are available in a matte and glossy finish. The enamelled materials have a stretch level of about 2.5 out of 5 stars, but are still very supple, soft and feel very comfortable on the skin.

If you want to learn more about SwimHXBY, you can read our blog posts on Blog.Cultulu.com.
to our blog

The manufacturer recommends: Hand wash inside out, do not tumble dry, do not iron and do not dry in the sun.
New items should be handwashed separately to prevent color bleaching.
This swimsuit is an import from Japan and can therefore only be offered in Japanese sizes. Please note that Japanese sizes are much smaller than European or American sizes. Therefore, carefully take measure before buying and compare your data with those of the size chart.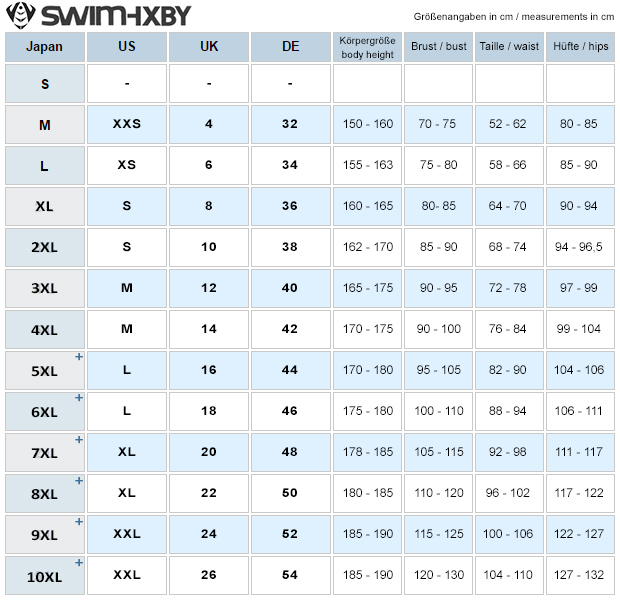 Some suits are available up to size 10XL (DE 54, UK 26, Int XXL). Most of the suits up to 7XL (DE 48, UK 20, Int XL).
Bust :
Take measurement horizontally at the fullest part of your bust line.
Waist :
Measure horizontally around the narrowest part of your waistline.
Hips / cheeks
Measure horizontally around the fullest part of your cheeks / buttocks.
---
The size chart was created by using the size details provided by the manufacturer. As the suits run quite small, you may want to order one size smaller – unless you prefer a real tight fit.
Accessoires like stockings, socks or shoes that might be shown on product photos are not part of the ordered item.