Product title photo: photography by @ucho_ucho (Twitter), model @ayu_photo_18 (Twitter)
Follow both of them for more wonderful content!
REALISE ★ STRETCH MESH ★ 'High Neck' Bodysuit |K-030|
Finally there is something new from REALISE available again : a great bodysuit made of stretchy MESH material – available in 4 colours.
Realise |K-030| product informations
Product Style
Transparent BODYSUIT | swimsuit | onepiece | leotard ;
in two-tone-design.
Seam at collar and zipper in contrasting colour.
Realise waterpolo-cut (high neck bodysuit),
high neck with small collar,
covered backside with zipper.
high leg-cut.
covered butt cheeks (Realise N-Cut).
Product Details
This bodysuit is unlined – no lining in bust or crotch area. No hooks for internal swimwear bras attachment. The suit also has no hooks for attaching internal bras.
Realise logo (symbol only) mid bust.
Design and manufacture : made in JAPAN.
Available in following main colors : black, pink, navy and white (offwhite-creme).
Contrast colours: white (for black and navy), wine red (for pink), blue (for offwhite).
Available in following sizes : 1L, 2L, 3L, 4Land 5L
Fabric Details
STRETCH MESH: a new, slightly larger-meshed net material that is very transparent, especially in the lighter shades.

Stretch-Level : 4, very stretchy.
Material composition : 80% polyester, 20% polyurethane.

Realise 'Social Media' Ambassodor´s Gallery

The manufacturer recommends : Handwash only (turn left), do not tumble dry and do not iron.
New items should be handwashed separately to prevent color bleaching.

The secondskin suits fit is conform to Realise´s size chart. Due to very good elasticity of the fabric you might have a bit space above within sizing. This swimsuit is produced in Japanese sizes only. We have translated this sizes to European sizes and created an detailed size chart. Please notice that our garment sizes are just meant for an approximately information. Please take your exact measurements before you order and compare with this size chart.
---
Bust :
Take measurement horizontally at the fullest part of your bust line.
Waist :
Measure horizontally around the narrowest part of your waistline.
Hips / cheeks
Measure horizontally around the fullest part of your cheeks / buttocks.
Torso :
Measure vertically once around your upper body. To do this, go with the measure tape from the highest point of the shoulder through the crotch.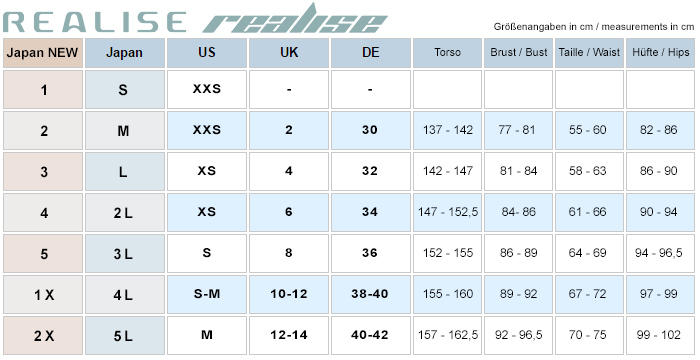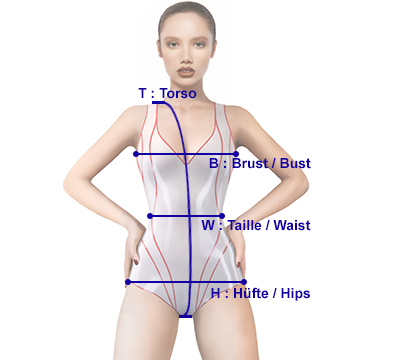 Accessoires like stockings, socks or shoes that might be shown on product photos are not part of the ordered item.