MIZUNO competition swimsuit |N2JQ1223|
with FINA approval – in two-tone design – original MIZUNO Japan import.
Every item that is not in our current stock will be ordered for you in Japan. The delivery times are between 2 and 8 weeks.
2 weeks : the preordered item is in stock in Japan, the import is running without delays.
6-8 weeks : the preordered item is not in stock in Japan and has to be produced especially for you. The production time lasts in general around 4-5 weeks.
The import can be delayed because of unforeseeable reasons – we sadly don´t have influence into this issue.
two-tone design with front and back in different colors.
contrast seams (3rd color) on shoulder straps and around the circular hole in the back.
STREAM ACE DYNAMIC with lengthside engraved surface to improve water streaming.
Mizunos STREAM ACCELERATION LADIES HIGH CUT (Racer-Back with open back, slightly raised leg cut).
round neck
covered cheeks
This swimsuit is unlined in the chest area – but has a inner lining in the crotch. The suit is prepared for the attachment of swimsuit bras.
MIZUNO logo (symbol only, without text), over bust right side.
competition FINA certification mark above left cheek.
Original import from Japan.
Available in following main colors (front): (09) black, (14) navy, (27) blue, (69) purple.
Available in following sizes : (S), M, L, O (XL), XO (2XL)
blue – red / seams : white
blue – lime (yellow-green) / seams : orange
black-blue / seams : turquoise
navy – red / seams : yellow
purple – blue / seams : yellow
MIZUNO STREAM FIT A is a high quality racing competiton fabric. The knit is stamped lenghtside to improve streaming performance in water. The fabric has a light shine, is good stretchy and opaque in all colors.
Composition : 84% polyester, 16% polyurethane;

The manufacturer recommends : Handwash only (turn left), do not tumble dry and do not iron.
New items should be handwashed separately to prevent color bleaching.
This swimsuit is an import from Japan and can therefore only be offered in Japanese sizes. Please note that Japanese sizes are much smaller than European or American sizes. Therefore, carefully take measure before buying and compare your data with those of the size chart.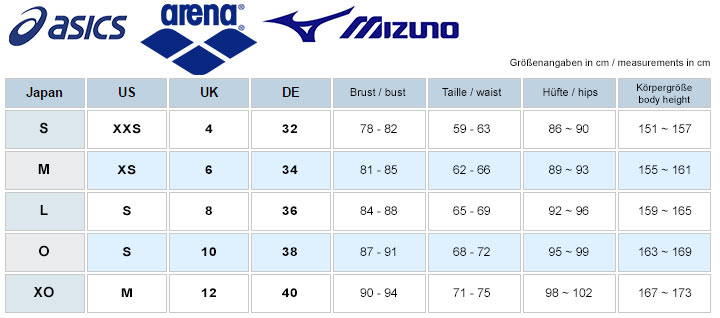 ASICS, Arena and Mizuno use approximately the same size charts, so we have led them together for simplicity. Mizuno uses instead of size designation O and XO: XL and 2XL.
Bust :
Take measurement horizontally at the fullest part of your bust line.
Waist :
Measure horizontally around the narrowest part of your waistline.
Hips / cheeks
Measure horizontally around the fullest part of your cheeks / buttocks.
Accessoires like stockings, socks or shoes that might be shown on product photos are not part of the ordered item.