DiTAH SKIN FIT longsleeved swimsuit with rubberized patches |DIT-01103FD|
Slightly transparent swimsuit with glossy patches on the sides of the body and sleeves – exclusive Japan import. Already sold out in Japan!
Manufacturer´s product information
The DIT-01103FD is a leotard swimsuit using a special two-way stretch material with strong shaping properties that has a slight transparency, especially in the lighter colors. This long sleeve suit is accentuated (at the sides of the body and the sleeves) by a soft "rubberized" material (Reflection Skin) with a strong and nice sheen.
The smooth, high quality fabric fits your body well and makes a beautiful silhouette.
These beautiful suits are sewn by hand in a Japanese production facility.
Produkt Details
two-tone design with sporty stylish and color contrasting patches.
4/4 sleeves.
High closed with round neckline.
Back zipper.
high leg cut with covered bottom.
The swimsuit is unlined in the chest area and crotch.
Sewn by hand.
Made in Japan.
Available in the following color options : Navy-White, Red-Pink, White-Blue.
Available in the following sizes : (M), L, LL (2L).
Fabric Details
Main material made of slightly transparent 2-way stretch material, which becomes even more transparent when wet.
Composition : polyamide (nylon) and polyurethane.
Contrast material made of slightly transparent rubberized "Soft Reflection Skin" (SRS素材).
Composition base material: polyamide, polyurethane.
Composition surface: polyurethane.
Care & Laundry

The manufacturer recommends: only hand wash (inside out), no tumble dry, dry in the shade and do not iron.
New items should be handwashed separately to prevent color bleaching.
Size information
This swimsuit is an import from Japan and therefore can only be offered in Japanese sizes. Please take into account that these are much smaller than European sizes. Therefore, take measurements before buying and compare your data with those of the size chart.
The measurements are my personal estimations based on my previous photo shoots and the feedback of my models. The information here differs from the manufacturer's specifications – they have been corrected a little bit downwards.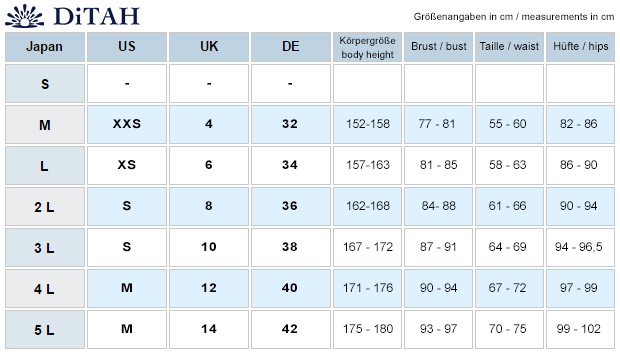 DiTAH uses almost the same sizechart as Realise.
Bust :
Take measurement horizontally at the fullest part of your bust line.
Waist :
Measure horizontally around the narrowest part of your waistline.
Hips / cheeks
Measure horizontally around the fullest part of your cheeks / buttocks.
Accessoires like stockings, socks or shoes that might be shown on product photos are not part of the ordered item.