More informations about SWIMHXBY swimsuit |282HF|
This swimsuit is an import from Japan and can therefore only be offered in Japanese sizes. Please note that Japanese sizes are much smaller than European or American sizes. Therefore, carefully take measure before buying and compare your data with those of the size chart.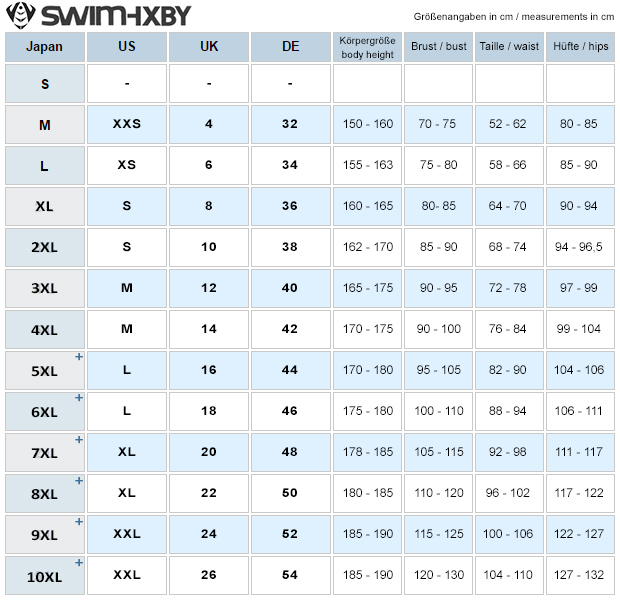 SwimHXBY has a swimsuit size chart, which is shown here.
Caution: do not use the table for catsuits as a comparison, because these are significantly larger.
Fortunately, more and more suits are now available up to size 10XL (DE 54, UK 26, US 24, INT XXL). The rest up to 7XL (DE48, UK20, US18, INT XL) or up to 9XL (DE 52, etc).
---
Bust :
Take measurement horizontally at the fullest part of your bust line.
Waist :
Measure horizontally around the narrowest part of your waistline.
Hips / cheeks
Measure horizontally around the fullest part of your cheeks / buttocks.
---
The sizechart data are those provided by the manufacturer, which have been slightly modified due to my own experience and customer´s feedback. Because the suits run quite small, you may want to order one size larger – unless you like the suit to be very tight.
Accessoires like stockings, socks or shoes that might be shown on product photos are not part of the ordered item.
More SWIMHXBY swimwear at Cultulu.com