ASICS competition swimsuit shorty |ASL12S|
SPURTex competition swimsuit with FINA certification mark

twocolored design with contrast seams
Asics circular-hole cut (X-back, racer-back)
round neck
swimsuit shorty with short legs
This swimsuit is unlined in the chest area – but has a inner lining in the crotch. The suit is prepared for the attachment of swimsuit bras.
ASICS logo (only symbol, without letters), over bust right
competition FINA certification mark above left cheek.
Original-Import from JAPAN
Available in following main colors : blue, charcoal, navy, red, black
Available sizes : S, M, L, O (XL), XO (XXL)
This swimsuit is available in standard colors and in an individual color configuration. The color configuration can be made from the available 5 main colors (P1), the 17 stitching colors (H1) and the 5 logo colors (M1).
Standard colors :
red : P1 : dark red (26), H1 : white (01), M1 : white (01)
blue : P1 : blue (42), H1 : light blue (41), M1 : white (01)
navy : P1 : navy (50), H1 : turquoise (52), M1 : white (01)
black : P1 : black (90), H1 : red (23), M1 : white (01)
charcoal : P1 : charcoal (92), H1 : white (01), M1 : white (01)


dark red (26), blue (42), navy (50), black (90), charcoal (92)


01 white, 04 yellow, 10 grey, B13 silver, 19 light pink, 23 red, 29 pink, 41 sax (light blue), 42 blue, T42 skyblue, 48 oceanblue, 50 navy, 52 turquoise, 61 lilac, 73 green, 90 black, 92 charcoal.

white (01), grey (11), pink (B19), red (B20), turquoise (52)
If you choose the color option "Custom", please tell us your color request for P1, H1 and M1 on the last page of the order process in the free text field (under "Notes on order (optional)"), or write us promptly a message via contact form (possibly with your order number, if already available).

SPURTex Pro is a slightly shiny and high quality competition material. ASICS SPURTex Pro ensures an optimal fit. The fabric is very dense and smooth, which minimizes the friction. Thanks to the 70% polyester fibers, the fabric hardly absorbs water and thus guarantees maximum water suitability. The used colors are resistant to light and other outer influences, whereby they maintain their luminosity for a long time.
Material compositon :
Surface : 70% polyester, 30% polyurethane
Linings : 77% polyester, 23% polyurethane

The manufacturer recommends : Handwash only (turn left), do not tumble dry and do not iron.
New items should be handwashed separately to prevent color bleaching.

This swimsuit is an import from Japan and can therefore only be offered in Japanese sizes. Please note that Japanese sizes are much smaller than European or American sizes. Therefore, carefully take measure before buying and compare your data with those of the size chart.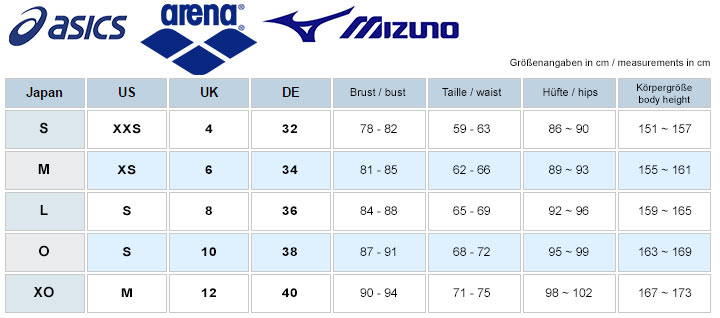 ASICS, Arena and Mizuno use approximately the same size charts, so we have led them together for simplicity. Mizuno uses instead of size designation O and XO: XL and 2XL.
Bust :
Take measurement horizontally at the fullest part of your bust line.
Waist :
Measure horizontally around the narrowest part of your waistline.
Hips / cheeks
Measure horizontally around the fullest part of your cheeks / buttocks.
Accessoires like stockings, socks or shoes that might be shown on product photos are not part of the ordered item.